Description
The most popular residence in Downtown Miami. Everyone who wants to be downtown wants to be here. It's 100% ready to own and enjoy now. Flexible listing packages for investors.
Pick a location overlooking the Bay, next door to a great waterfront park. Add an iconic, 60-story tower with incredible 360-degree panoramas from South Beach to sunset. Surround it with a trending Biscayne Boulevard neighborhood lighting up with cafés, boutiques, stores, and restaurants, only 5 minutes from Wynwood art galleries, Midtown, and the Design District – and just a stroll from the Performing Arts Center and Museum Park. Then take an elevator up to beautifully finished residences that look out over turquoise waters, city lights, and the incomparable 24/7 Miami lifestyle. You're on top of it all.
D´Lux D43 Building Features and Amenities
– 24/7 security and concierge service
– Supervised garage parking for each residence with available 24/7 valet service
– Dramatically designed lobby with 20+foot high ceiling
– Fully-equipped state-of-the-art fitness center with cardio and weight training equipment
– Clubroom and media room
– Oversized swimming pool and multiple Whirlpool spas
– Fully-equipped business center
– Experienced, courteous and professional management team on site
– Onsite dry cleaners, beauty salon, gourmet market and outdoor grotto restaurant
– Preferential consideration at Sea Isle Marina and Yachting Center, located across the street
D´Lux D43 Residence Features
– Oversized wraparound terraces with vistas of Biscayne Bay, South Beach, Downtown and beyond
– Energy-efficient washer & dryer in unit *
– Heat and wind resistant windows and floor-to-ceiling solar tinted sliding glass doors
– Large walk-in closets
– Sophisticated electronic security systems in unit
– High-speed Internet and cable TV
– Elegant kitchens with granite countertops, stainless steel appliances and European-style cabinetry
– Deluxe bathrooms with marble vanity tops and decorative fixtures
– Ample storage facilities
* In one and two bedroom residences only
Studion – One bath
| | |
| --- | --- |
| Living Area: | 503 sq. ft. / 46.7 m² |
| Balcony: | 83 sq. ft. / 7.7 m² |
| Total Living Area: | 586 sq. ft. / 54.4 m² |
Typical Studio Residences are available as A1 and A2 and are also located on the 11th and 12th floors. All Studios range from 469 to 591 square feet including terrace. Available on floors 11 to 51 Penthouse residences available 52 to 55 Tower suites available on 56th floor.
One Bedroom – One Bath
| | |
| --- | --- |
| Living Area: | 821 sq. ft. / 76.2 m² |
| Balcony: | 134 sq. ft. / 12.5 m² |
| Total Living Area: | 955 sq. ft. / 88.7 m² |
Typical One Bedroom Residences are available as B1, B2, B3, B4. Available on floors 14 to 51 Penthouse residences available 52 to 55 Tower suites available on 56th floor
Two Bedroom – Two Bath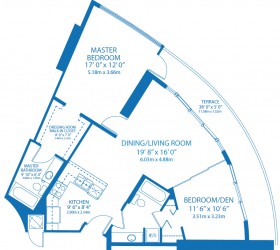 | | |
| --- | --- |
| Living Area: | 1,048 sq. ft. / 97.4 m² |
| Balcony: | 177 sq. ft. / 16.4 m² |
| Total Living Area: | 1,225 sq. ft. / 113.8 m² |
Typical Two Bedroom Residences are available as C1, C2, C14, C15. Available on floors 11 to 51
Penthouse residences available 52 to 55 Tower suites available on 56th floor